Powerfeeders (Four-Roller)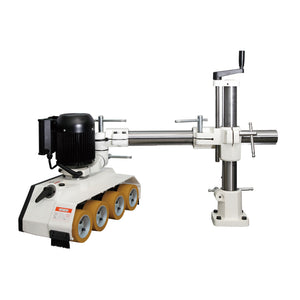 Ironwood powerfeeders offer operators a safe and reliable way to feed materials, helping to improve safety and quality by providing consistent feed rates each and every time. With heavy duty motors and solid construction, our feeders are built to withstand even the toughest applications.
These powerfeeders are designed for plug and play integration with any IRONWOOD shaper, as well as other models.  Feeders are available in a variety of configurations to best suit each application.
All Ironwood Shapers come pre-drilled and tapped for simple powerfeeder integration.
Controls the workpiece before, during and after the cut
Increases operator comfort and reduces fatigue
Maintains consistent feed rate for the workpiece through the entire cutting operation
Provides constant pressure on the work piece against the shaper table bed and back fences to ensure repeatable shaping accuracy
Keeps operators hands clear of the cutting area
Reduces the risk and chance of kickbacks
Ensures positive pressure and appropriate control of work piece during conventional or climb cutting applications
Ironwood Model
AP44

AP48
Number of Rollers
Four (4)
Four (4)
Number of Speeds
Four (4)
Eight (8)
Rotation

Fwd / Rev

Fwd / Rev

Motor Horsepower

1 HP

1 HP

Roller Size & Type
4.75" x 2.375" 
Synthetic Rubber
4.75" x 2.375" Synthetic Rubber
Speeds (fpm)

13 / 26 / 33 / 66

6.5 / 13 / 18 / 22 / 36 / 44 / 55 / 100
Roller Suspension
3/4"
3/4"
Distance between rollers
5.25" - 6" - 5"
5.25" - 6" - 5"
Positioning Range
360°
360°
Vertical Movement

9.875"

9.875"

Horizontal Movement

18.125"

18.125"

Max height of roller parallel to table

8.125

"

8.125"

Height with Handle

29.5"

29.5"

Width

23.625"

23.625"

Length with Handle & Arm

43.25

43.25

Net Weight (lbs.)
145
150