IRONWOOD MBR320 Multi-Blade Rip Saw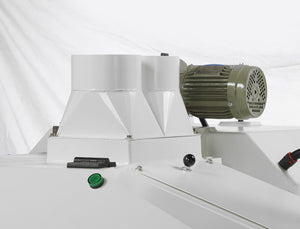 The Ironwood MBR320 is a multi-blade rip saw designed to meet the requirements for those who have moderate to high production volumes and do not require movable gang rip technology.  The MBR320 multi-bade rip features solid steel and cast-iron construction as well as a manually adjustable infeed fence. The machine's fixed arbor allows blades to be stacked in any configuration using spacers on the main arbor. 
Technical Advantages

The large pressure plate covers the entire cutting area and is suspension supported both in the front and back for extremely uniform hold down during cutting operations. The design also prevents damaged or defective workpieces from damaging the saw blade or saw arbor.  
The 760mm throat capacity allows larger panels to be easily ripped and processed.
The exclusive roller motion features a concave design which supports effortless chain feed in order to minimize friction and wear overtime while increasing durability over the life of the machine.
Blades are easily set with an independent shaft for time-savings during tool changes.
All of the machine's operational controls are located within a centralized and ergonomic control panel for ease of access.
Advanced Laser Unit gives a clear view of the cutting line allowing for operator defecting and easy adjustment.
Efficient yet Versatile
Pressure rolls supported on both sides hold stock firmly and evenly during the ripping process
The entire head mechanism features powered raising and lowering.
Variable feed speeds permit the cutting of a variety of stock, whether hard or soft lumber, regardless of thickness.
Multiple sets of anti-kickback fingers, hold-down rollers, and side protection guards ensure maximum operator safety
Emergency stop buttons
All electrics are UL/CSA approved 
One-year warranty
Minimum material length

600 mm (23.63")

Material thickness

     minimum

     maximum

 

10 mm (0.39")

130 mm   (5.1")

Saw blade keyway

20 mm x 2 

Distance between keyways

80mm (3.15")

Saw arbor motor

50 HP IE3

Saw arbor speed

3200 RPM

Saw blade diameter | Cutting Thickness

Ø305mm | 10-80mm

Ø355mm | 10-105mm

Ø405mm | 10-130mm


Saw arbor diameter

55 mm (2.165")

Variable feed speed

29 - 118 FPM (9-36 meters/min)

Feed motor

2 HP

Table area (w x l)

1900mm (74.80") x 900mm (35.43")

Table height

850mm (33.46")

Machines Dimension

2400mm x 1500mm x 1800mm

(94.5" x 59" x 71")


Shipping dimensions (l x w x h)

2550 x 1800 x 2150 mm
(101" x 71" x 85")

Electrical connection*

230V | 3-phase | 60 Hz.

Machine weight

6,504 lbs

Dust extraction

1000 CFM / 99 FPS

Dust Extraction Port

2 x 152 mm (6")
  *460V power upgrades available upon request.  Additional charges may apply.